Meeting the Needs of an Active Adult Community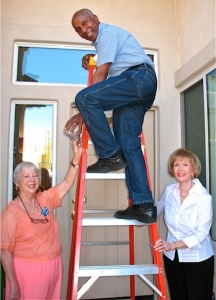 Americans are living longer, healthier and more productive lives and are intent to remain active and independent in their own homes and communities. A new volunteer-driven, membership-based movement, known as Villages, has emerged to help make that possible.
As SCPDCA neared twenty, and the aging of our first residents became impossible to ignore, a committee was formed to investigate the Village movement and study the response of other Del Webb communities. From the committee's recommendations came The Desert Village Initiative, a 501(c)(3) nonprofit corporation.
As a nonprofit 501(c)(3) corporation, independent of SCPDCA, the DVI is committed to helping members find solutions to the issues and challenges of aging and to ensure that our community remains a vibrant welcoming home for all our residents.DVI is funded entirely by annual membership fees and donations, not by the HOA.
To support the Desert village Initiative, the Neighbors 4 Neighbors group was formed to provide services to Sun City Palm Desert residents.