Below are the programs included in your Neighbors4Neighbors Membership.
---

"HELPING HANDS"
HELPING HANDS provides assistance with minor home maintenance tasks.
Want to know more about what we do? Click here.
---

"JUST CHECKING IN"
JUST CHECKING IN provides a scheduled phone call, usually to someone living alone. This service provides a comforting awareness that help is at hand in the event of a problem.Read More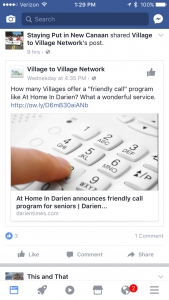 The purpose of the daily phone call is to ensure, in case of a serious fall and injury such as a broken hip, the member does not lie undiscovered on the floor.If there is no answer, two or three more tries will be made, and if unavailing, the No Answer procedure will come into effect.The No Answer procedure will be carefully reviewed with the member. The member must understand that in the event of a confirmed missed contact, a Community patrol officer and possibly the neighbor with a key will be attempting to gain access to the house and back yard, and will be knocking and calling loudly and looking in windows to see if the member is at home and down.If the member is discovered, the Community Patrol officer will call 911.  If the member is not discovered, either because s/he is away from home or
is out of sight or unconscious,
no further action can be taken,
except to notify the family "In Case of Emergency" contact and request further instructions.
---
 "GOING MY WAY"
GOING MY WAY gives you rides to medical appointments, grocery shopping, hair/nail salons, and community activities (sorry: no airports or casinos). We'll also run errands for you.Read More
GMW Volunteers are licensed, insured drivers who use their own cars to transport members to requested locations.Appointments for rides are available Monday through Friday, 9-5, excluding holidays, but occasionally exceptions will be made, such as for an early medical appointment. A member may also request an additional stop, such as for a lab test or prescription pickup/drop-off.
Some of our drivers can transport members with special equipment such as a walker or wheelchair; these drivers have agreed to lift the equipment, and stow it for safe transport, and ready it for use at the destination.
---

"N4N PET ASSISTANCE TEAM"
The N4N PET ASSISTANCE TEAM provides short term assistance to any DVI Member who requires help caring for their pets when an emergency prevents him or her from doing so. Read More
With permission and information the member provides in advance, a volunteer will enter the home, provide water and food for the pet, walk a dog as necessary, and clean out and refill a cat's litter box. This service must be requested on a daily basis, and is available only for short periods such as for two or three days, after which the member should be able to make an arrangement with a friend or neighbor or pet sitter.
---